Join us for one of our Knowledgeable Analytical Seminars coming to an area near you!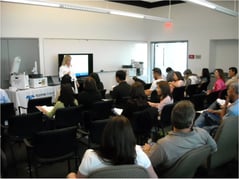 These seminars are designed to provide you with information and productivity tools for VOC Purge and Trap and TOC. This seminar will go over the basics for those new to VOC and/or TOC analysis as well as some advanced information for the seasoned chemist. Our seminar series is focused on providing you tools to help you be as productive and profitable as possible with your sample analysis.
Dates and Locations:
Time: 10:00 am - 2:00 pm (Registration at 9:30 am)
(Continental Breakfast & Lunch will be provided)
Note: These are complimentary seminars.
Presentation topics to be covered during this 1-day seminar include:
VOC
Purge and Trap 101: Introduction to Theory and Practice of Purge and Trap

Purge and Trap 201: Optimizing Parameters for EPA Methodologies

Purge and Trap 301: Comprehensive Troubleshooting and Maintenance Procedures for the Lab
TOC
Introduction to Theory and Practice of TOC

Overview of Different Types of TOC Analyzers

Importance of Accuracy, Precision and Calibration

Method Optimization for Problematic Sample Matrices
To register for one of these seminars, please fill out the form to the right. We will send you a confirmation and more details on location as we get closer to the seminar.