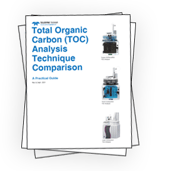 Download your free copy - Total Organic Carbon (TOC) Analysis Technique Comparison: A Practical Guide.
Deciding which technique is best suited for your TOC analysis needs can be a bit overwhelming. This guide will help provide all the essential knowledge for TOC users and help recommend the best instrument for specific applications.
The Practical Guide covers the following topics:
Complete the form on the right and we will email you a copy of this guide.