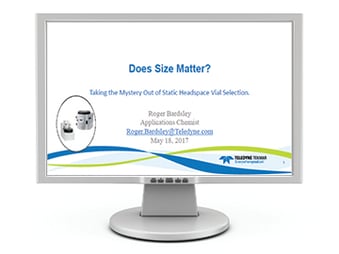 If you missed or were not able to attend our webinar or just want to listen to it again, the recording is now available for viewing. The slides are also available to refer back to.
Title: Does Size Matter? Taking the Mystery Out of Static Headspace Vial Selection
This webinar discussed how vial size and sample volume can affect detection limits in static headspace analysis.

Is a 9 mL vial better for smaller samples that a 12 mL or 22 mL vial?
This webinar will help you decide if size does matter.
Please fill out the information to the right to access the webinar slides and recording.